Fossil
Information
A Film by Henning Beckhoff
Germany 2023 / HD / 16:9 / Colour / 90 Min. / German with english ST
Plot
MICHAEL (62) lives with his wife MIRI (64) not far from the open-cast lignite mine where he has worked on a bucket-wheel excavator for forty years. When a colleague takes his own life, he blames the planned closure of the mine. Because where excavators are still clearing away today, a flourishing lake landscape with floating solar cells is soon to be created. Michael tries to convince his colleagues to protest against the rapid change. He is concerned about prosperity and energy security. But his own daughter ANJA (30), of all people, is an environmental activist who advocates an even earlier coal phase-out. The fronts harden and Michael's feeling that he is no longer needed spreads to his own family. Michael finally chains himself up at the plant, hoping to stop the planned blowing up of his excavator. Instead, however, he is dismissed and Michael loses himself completely in his fight for his life's work. With his last ounce of strength, he breaks into the open-cast mine and climbs onto the excavator. Only when his daughter follows him does Michael realise that he has to decide who he wants to be and for whom he is really fighting.
Fossil
Team
Director: Henning Beckhoff
Script: Bastian Köpf, Henning Beckhoff
DOP: Sabine Ponassian
Production Design: Isabelle Siegrist
Costume: Nina-Sophie Brettschneider
Casting: Susanne Ritter
TV Commissioner
Christian Cloos (ZDF – Das Kleine Fernsehspiel)
Fossil
Cast
Markus Hering
Ruth Reinecke
Victoria Schulz
August Schulz
Sohel Altan Gol
Karen Dahmen
Godehard Giese
Mercy Dorcas Otieno
Elif Kardesseven
Philippine Pachl
Karin Moog
Steffen Will
Ben Wichert
Jost Hering Filme in co-production with HUPE Film Fiktion Produktion GmbH and ZDF – Das kleine Fernsehspiel.
Funded by Film- und Medienstiftung NRW, Medienboard Berlin-Brandenburg and DFFF
German Distributor: Missing Films
Future is a lonley place
Information
A Film by Martin Hawie und Laura Harwarth
Length: 90 Min.
Plot
Frank (Lucas Gregorowicz), who has not been harmed so far, raids a money transporter and then faces the police. In prison he meets the unscrupulous and suspicious Lebanese Fuad (Denis Moschitto), who is protected by his clan. Frank gets involved in the drug business in the prison and gets caught between the two rival groups of German and Arab-born inmates. Frank only builds a relationship to the guard Susanna (Katharina Schüttler) – not knowing that Susanna is part of Fuad's business and has a sexual relationship with him.
What only Frank knows: his wife Maren and daughter died in a car accident. Fuad was the driver of the car and committed an escape that remained unpunished. Frank seeks for revenge.
Future is a lonley place
Team
Director: Martin Hawie, Laura Harwarth
Script: Laura Harwarth, Martin Hawie
DOP: Mathias Prause
Production Design: Pierre Pfundt
Costume: Elena Wegner
Make Up: Carina Grallert
Casting: Emrah Ertem
Sound: Michael Arendt
Musik: Gregor Kleienburg
TV Commissioner
Christian Cloos (ZDF – Das Kleine Fernsehspiel)
Future is a lonley place
Cast
Lucas Gregorowicz
Katharina Schüttler
Denis Moschitto
Ronald Kukulies
Slavko Popadic
Vedat Erincin
Daniel Wiemer
Zejhun Demirov
Daniel Drewes
Karoline Bär
Billey Demirov
In Co-Production with ZDF/Das Kleine Fernsehspiel
Script founded by Film- und Mediastiftung NRW
Production founded by Film- und Mediastiftung NRW and DFFF.
German Distributor: Der Filmverleih
World Sales: Patra Spanou Film Marketing
Festivals
24. Shanghai International Film Festival 2021,
20. Rome Independent Film Festival Awards 2021, Special Mention,
Film Festival Cologne 2021,
71. Internationales Filmfestival Mannheim-Heidelberg,
Reims Polar 2022, Festival du film policier.
The Hitman's Solitude
Information
A Tragicomedy by Clemente Fernandez-Gil & Florian Mischa Böder
Germany 2012 / Colour / 90 min. / German with English ST
Plot
The over ambitious Koralnik has a dream job: he is a contract killer for a secret EU programme! But even eight years after his training he still hasn't had a single hit. Bored, frustrated, he lives according to the programme's strict rules – withdrawn, no social contact and constantly undercover. One day the shy Rosa crashes into into his car and life. Before he knows it, Koralnik is having dinner with her. For the first time he can flee his everyday misery for an evening of company. But then the telephone rings! It his Koralnik's first job. With Rosa alongside, Koralnik sets off on a chaotic odyssey through a night in which nothing goes to plan! It is only when Koralnik's target is revealed to be none other than one of his colleagues that the rigid concept by which he lives finally comes into question. He is confronted with the dilemma of either protecting his secret programme or drawing a line under his unfulfilled existence as a killer. It is, of all people, the biggest liar of them all, Rosa, who forces him to stare the lie that is his life right in face.
The Hitman's Solitude
Team
Director: Florian Mischa Böder
Script: Florian Mischa Böder, Clemente Fernandez-Gil
DOP: Matteo Cocco
Production Design: Cora Pratz
Costume: Peri de Braganca
Make Up: Christina Paul
Casting: Emrah Ertem
Sound: Andreas Wölki
Music: Tobias Wagner, Arne Schuman, Josef Bach
Cutter: Andreas Menn
Unit Production Manager: Andreas Jupe
TV commissioners
Jörg Schneider (ZDF – Das Kleine Fernsehspiel)
Olaf Grunert (Arte)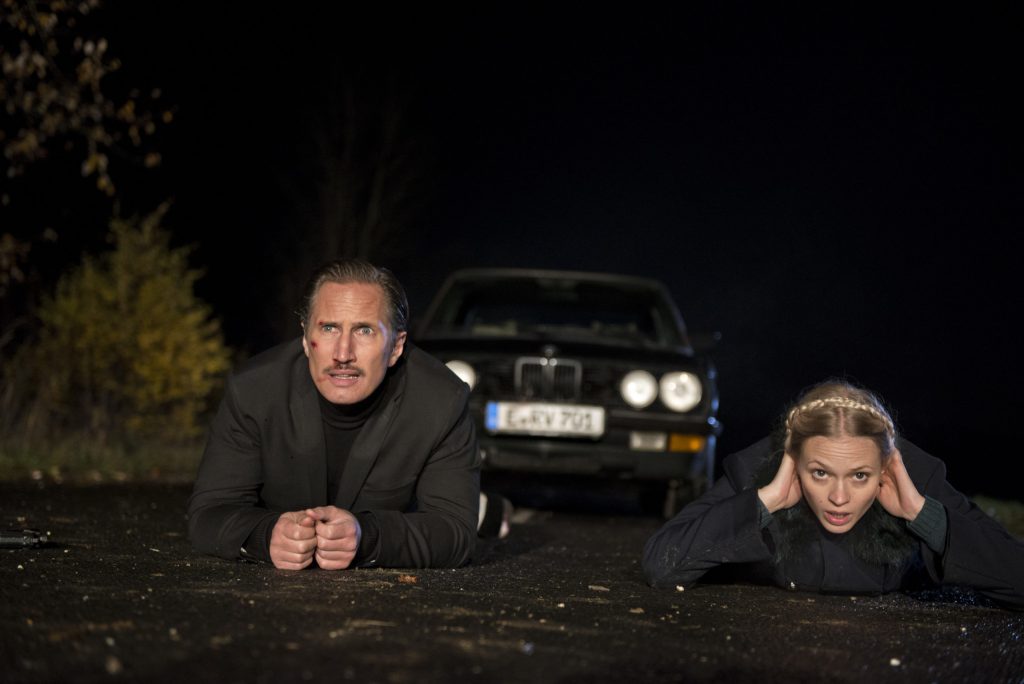 The Hitman's Solitude
Cast
Benno Fürmann
Mavie Hörbiger
Wolf Roth
Eric Madsen
Ivan Shvedoff
Rolf Berg
Daniel Drewes
In coproduction with ZDF – Das kleine Fernsehspiel.
In collaboration with Arte
The script development funded by Film- und Medianstiftung NRW
Production funded by Film- and Mediastiftung NRW, FFA, DFFF

German distributor: Camino Filmverleih
World Sales: Picture Tree international
The Hitman's Solitude
Festival
67° Festival del Film Locarno, 2014
Stockholm Film Festival, 2014
Shanghai International Filmfestival, 2015
Festival Mauvais Genre Tours, 2015
Comedy Cluj International Film Festival, 2015
Kinofest Lünen, 2014
Cologne Conference, 2014
Prices
Price of the young jury, Festival Mauvais Genre, 2015
Audience Award, Festival Mauvais Genre, 2015
Laudatory mentioned by the jury of critics
An Island Named Udo
Information
A Film by Markus Sehr
Germany 2011 / HD / 16:9 / Colour / 81 Min. / German with english ST
Plot
Udo (Kurt Krömer) has a very special problem: He has a severe noticibility impairment. His body is not invisible in the sense of "transparent". But Udo's being exudes something so ordinary and easy to miss, that people actually fail to notice him. He is some kind of human blind spot. Being a store detective, Udo has made himself at home on an island of lonesomeness.
His profession allows him to observe the lives of other people silently in most cases. That is until Jasmin (Fritzi Haberlandt) steps into his life. Jasmin, the sole person who can see Udo, spots him naturally and without any difficulties. With her, Udo's life is getting a little bit out of control.
An Island Named Udo
Team
Director: Markus Sehr
Script: Clemente Fernandez-Gil und Markus Sehr
DOP: Daniela Knapp
Producer: Julia Willmann
Production Design: Stefan Schönberg
Costume: Genoveva Kylburg
Casting: Die Besetzer, Iris Baumüller-Michel
Unit Production Manager: Annette Schilling
TV Commissioners
Frank Tönsmann, WDR
Barbara Häbe, Arte
An Island Named Udo
Cast
Kurt Krömer
Fritzi Haberlandt
Bernd Moss
Kari Ketonen
Maja Beckmann
Jan-Gregor Kremp
Johanna Gastdorf
Rolf Berg
Daniel Drewes
Petra Nadolny
Carsten Strauch
In co-production with Little Shark Entertainment and WDR/ARTE .
Funded by Film- und Medienstiftung NRW, DFFF and FFA.

German Distribution: X-Verleih.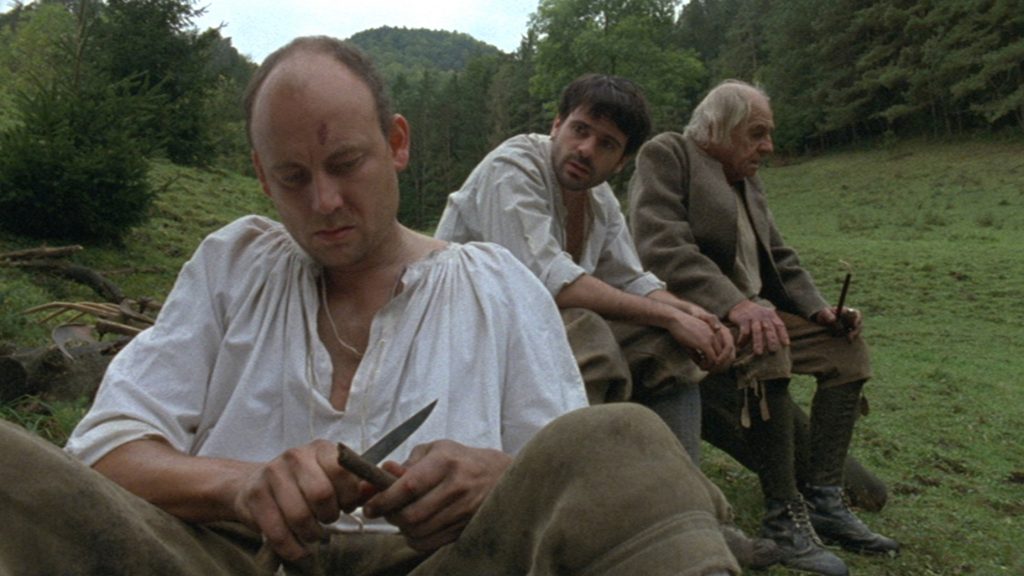 The Heart Eater
Information
Short Movie by Anna Schwingenschuh
25 Min., 16mm, Austria / Germany 2009
Plot
A cinematic Moritat with the length of 1400 heart beats about a servant, whose heart is broken and can only be cured by eating the hearts of seven young virgins. A story about the superstition of a single man and the disaster which comes out of it.
Stanzi, the great love of a servant named Paul, is pregnant and desperate, because Paul gambles their money away. All of a sudden Stanzi disappears and a body – very likely hers – is found in the water. Racked with grief and guilt, Paul hatches a deranged, evil plan: He will eat the hearts of seven virgins and thus become invisible and reunite with Stanzi. In executing this plan, Paul becomes a beastly murderer, showing no mercy.
As Toni finds the hearts which Paul collect in a box, it is already too late. The last victim is dead. Paul is killed by Toni but before he dies he has a vinia of Stanzi and find out that he is still visible and his child in June.
The Heart Eater
Team
Director: Anna Schwingenschuh
Script: Anna Schwingenschuh
DOP: Astrid Heubrandtner
Cutter: Zuhal Er
Production Desing: Maria Gruber
Costume: Christina Weber
Make Up: Susanne Fiebig
Sound: Gerd Jochum, Martin Rohrmoser
Music: Moritz Maier
The Heart Eater
Cast
Erol Nowak
Pia Hierzegger
Christoph Theußl
Elmar Drexel
Reinhard Simonischek
Alexandra Maria Nutz
Stefanie Dvorak
Katharina Vana
Karina Heinzl
Founded by Film- und Mediastiftung NRW und der Cinestyria Graz and the City of Graz.
Festivals
Diagonale 2010